A jet mill, or fluid energy mill,  grinds material by using a high speed jet of compressed air or inert gas to impact particles into each other. Jet mills can be designed to output particles below a certain size, while continue milling particles above that size, resulting in a narrow size distribution of the resulting product. Particles leaving the mill can be separated from the gas stream by cyclonic separation.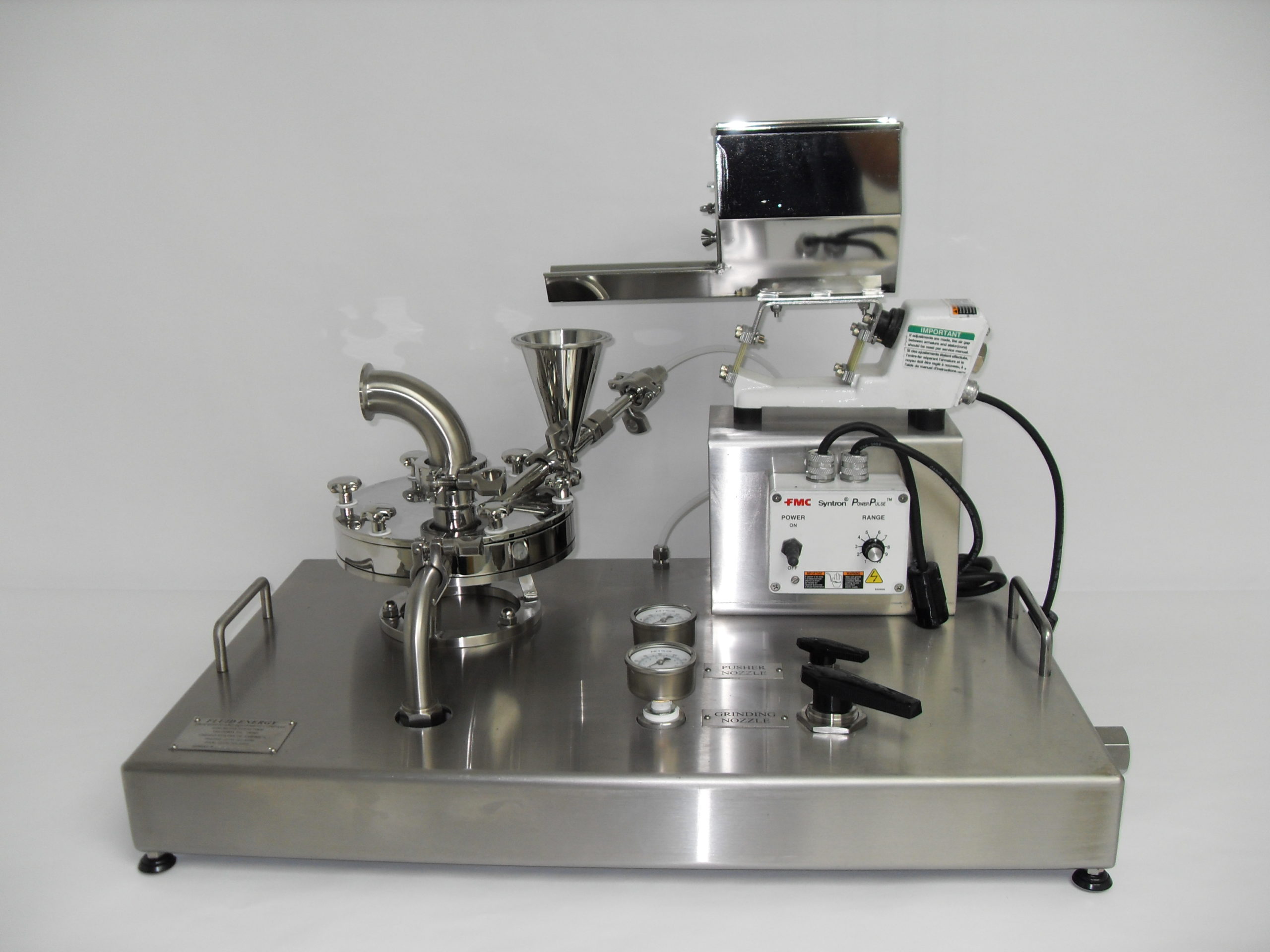 While a mechanical mill requires many moving parts with varying chambers for pulverization and classification, a jet mill relies mainly on a single chamber to pulverize and classify the material thoroughly.
Unlike mechanical milling, many jet mills involve no moving parts of any sort and instead relies on air, gas or steam jets to break up the particles.
These high-velocity jets are used to drive the material around the grinding chamber, creating collisions between particles of the process material.
Once the desired particle size has been reached, particles flow out of the grinding chamber and conveyed to a collection system.
This makes the milling process incredibly efficient for the operator, as the user is able to easily customize the size of the particles resulting in a final product that meets your specific needs.
No moving parts along with the adiabatic expansion of the gas, will cool the solids being ground.  Therefore the jet mill is uniquely equipped to handle softer powders and even the most heat sensitive of materials common to the pharmaceuticals industry.
In order to find the best jet mill for your project, we recommend that you speak with a professional who has experience in designing and operating a variety of mills.
Powder Milling for Research and Development
Jet milling tray systems are designed to provide an R&D jet-milling system that can efficiently mill and collect your fine powders in three batch ranges all in one system. Each system is capable of maintaining yields in excess of 95%. Different collection vessels designed for various batch sizes are easily attached to the portable mill by quick disconnect sanitary clamps. These powder mills produce a fine, narrow particle size distribution, consume minimal amounts of energy and are easy to feed with a wide variety of materials. Our unique laboratory jet milling system eliminates troublesome blowback issues found in other research equipment.
A High-Yield Collection Module is designed to achieve the highest jet milling yield in the pharmaceutical and biotechnology industries while using the 00 JET-O-MIZER as a laboratory jet mill. These powder mills collect up to 98% of the product fed to the mill in an easy-to-access 316L stainless steel collection container. The compact designed tray provides controls and feeder as a portable mill or lab grinder.
Type 316 stainless steel filter housing allows product collection in 2"x9" filter bags and eliminates all "dusting" to the atmosphere when used with HEPA filtration.
Model 2 JET-O-CLONE Cyclone attaches to mill outlet with quick-disconnect. Used to provide a sterile collection point or an extended batch run. Cyclone fines can exhaust for collection to filter bags in atmosphere or to HEPA filtration system. Model 2 JET-O-CLONE Cyclone attaches to mill outlet with quick-disconnect. Used to provide a sterile collection point or an extended batch run. Cyclone fines can exhaust for collection into filter bags or into a HEPA filtration system.
One Gram Sample Collector: Attaches to mill outlet allowing collection of batch sizes of 1 gram or less with yields of up to 97%. These laboratory jet mills provide exceptional size reduction and are superior to a laboratory ball mill with no significant temperature concerns while maintaining extreme purity.
Micronizes even a few grams quickly with exceptional recovery
Mills for R & D up to production
No moving parts – utilizes compressed air or other suitable gases
Pulverize a range of materials – hard, brittle, abrasive, agglomerated
Size reduction to 10 microns and below
Expanding gases cool the system allowing for milling of temperature sensitive materials
Interchangeable liners in Polyurethane, Stainless Steel, Nylon, PTFE, and Tungsten Carbide available on select models
Request Jet Mill Information