Description
Construction
Standard mixers are built with structure made from Carbon steel. While the container holder is from Heat Treated high grade Aluminium alloy. They are powder coated material after surface preparation.
We also offer GMP design where all exposed parts are made from stainless Steel AISI 304 material.
---
The Mixing Drum is Removable
The best feature of the Alphie mixer is that – the mixing drum is removable. So, the powder does not go to the mixer. But the powder filled and sealed container goes to the mixer. And hence, there is no chance of powder being exposed to the atmosphere while using the mixer.
Another advantage is, the mixing container material can be supplied to suit your application – Stainless steel / Plastic / Glass / Gun Metal / Aluminium etc.
Ability to Fit any Smaller Shape / Size / Material of Container:
Mixer comes with Crown – Rubber string attachment which makes it possible to hold any smaller shape / size / material of container.
Mixer can be supplied with a holder to accommodate more than one container.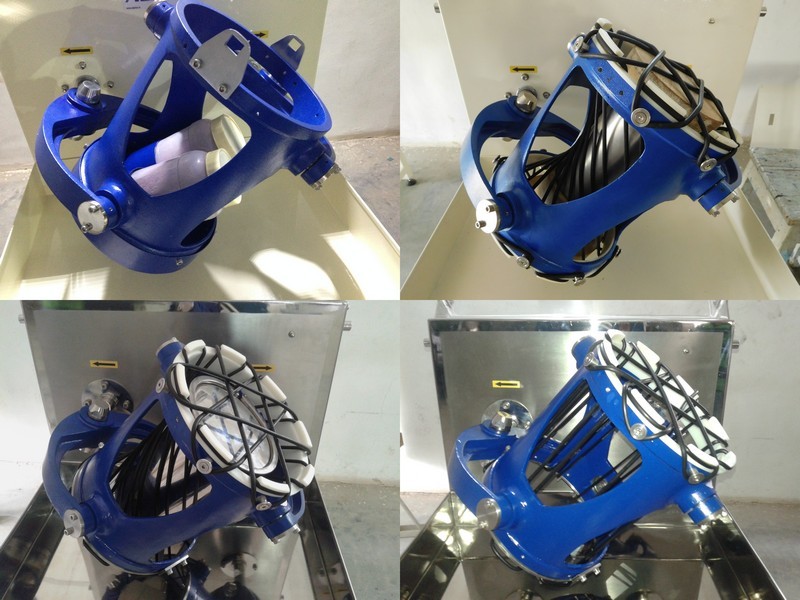 ---
Mixer with Included Base Stand
Alphie 10 is supplied fitted on its own working table. It has its levelling feet and sturdy structure. It does not need any further anchoring or fixing.
Plug and Play Operation
Alphie 10 Mixer runs on single phase power (we offer country specific power supply). This is a simple table top mixer and needs only 5A socket.
Maintenance Free Design
Mixer is constructed with state of the art technology without use of belt or chain or even bearing re-lubrication. This makes it perfect maintenance and attention free operation.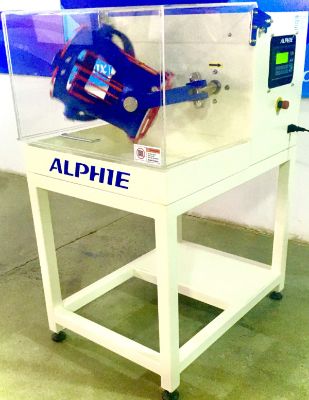 ---
Safety Guard and Removable Tray
Mixer has front Plexi-glass safety guard with interlock. The mixer shall stop, if the guard is opened and mixer can not start unless the guard is closed.
Mixer has a removable Stainless Steel tray below rotating drum to collect accidental seepage.
Fixed Stop Position
After cycle completion, mixer stops at predefined position on its own for easy drum loading and unloading. No need to manually rotate to bring correct position.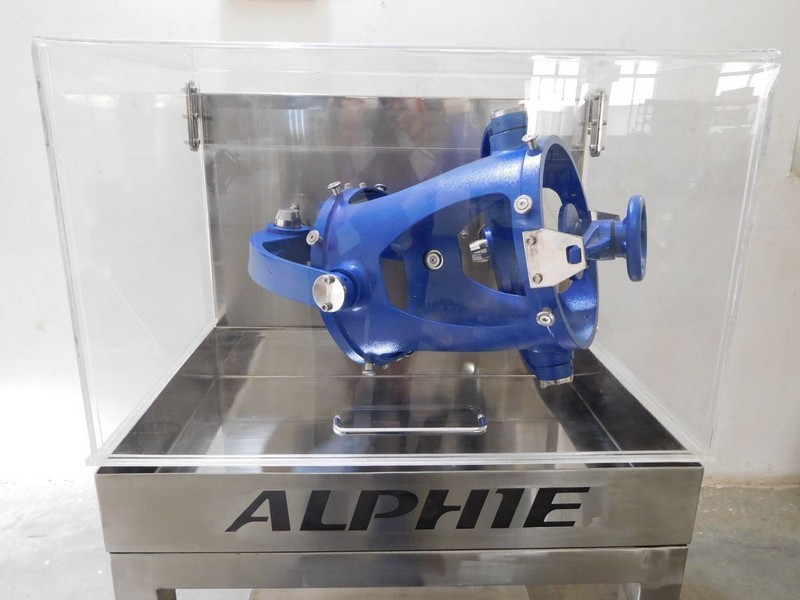 ---
Control Panel
Alphie 3 mixer is built with HMI / PLC panel and Variable Frequency Drive (VFD) as standard supply. User can set the Container Speed, Mixing time and Mixing direction.
Mixer panel is programmed with the ability to set mixing in forward direction for some part of mixing cycle and in reverse direction in other part of cycle time. This is especially beneficial for mixing diverse density material.
Mixer has Recipe mode, where speed and time can be set with password protection.
Our control panels are built accordance to CE certification.
---
Mixing Containers
Choose from varieties of mixing containers from stainless steel, Aluminum, Plastic, Glass, Gun Metal etc.
Stainless steel containers are offered in AISI 304 as well as AISI 316L material with silicone gasket.
We offer holders where multiple containers can be fitted.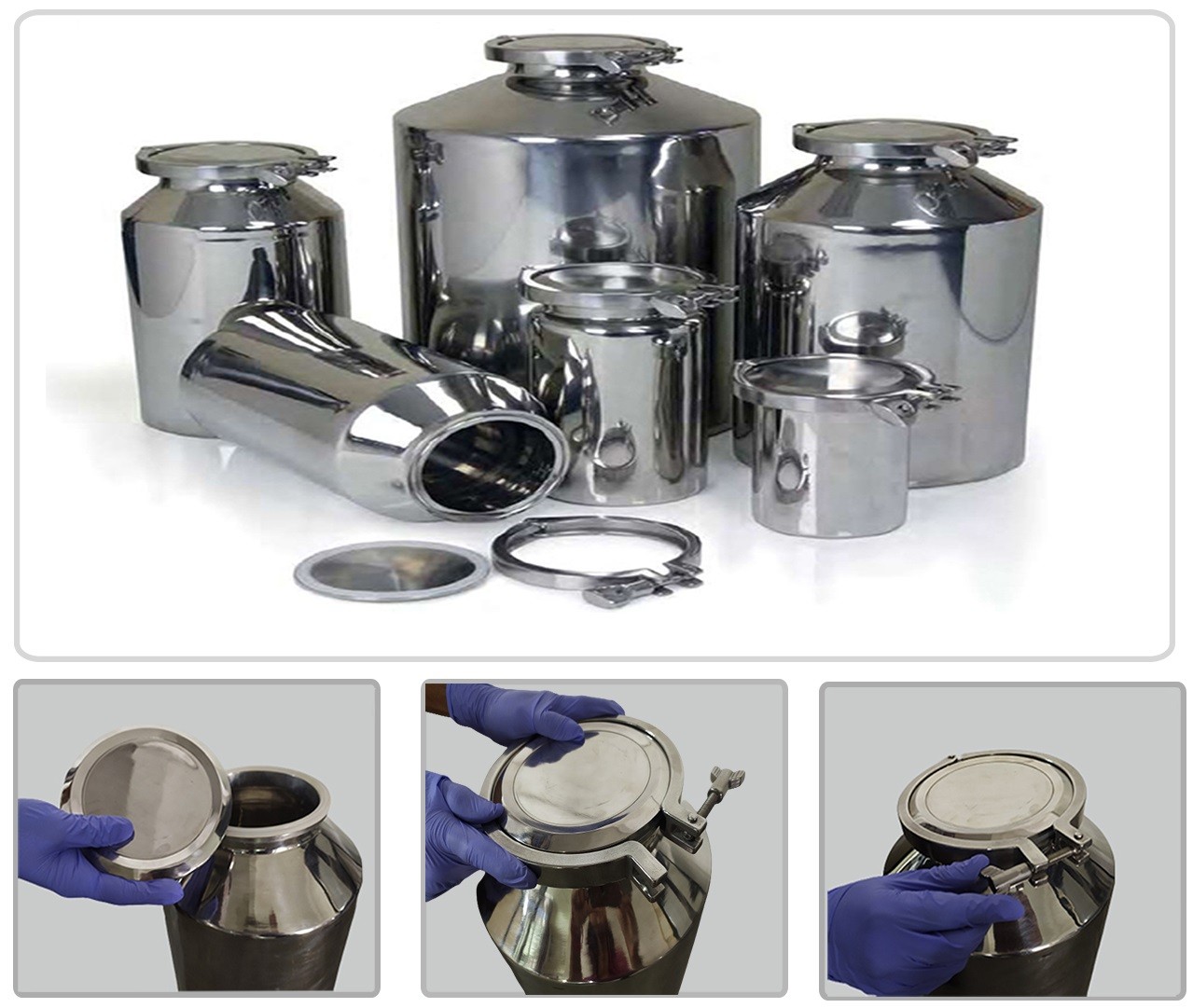 ---
Option of Injecting Liquid While Mixing
As an optional feature, Alphie 10 can be constructed to have provision to inject liquid in the mixing chamber while mixer is running. A pre defined quantity of liquid at required interval can be inserted in mixing container without stopping the mixer.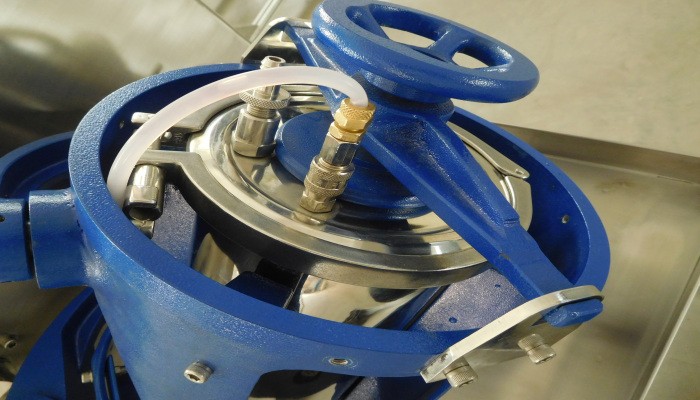 ---
Option of mixing in controlled atmosphere using glove box / isolator (+ve or -ve pressure) mixer stand
Alphie 3 can be designed and manufactured so the mixing drum can remain in the Glove box / Isolator and drive part remain outside.
---
Option of control panel with 21 CFR, part 11 compliance
We can supply mixer for Pharmaceutical industry complying the 21 CFR regulatory requirements.
---