Equipped with a vacuum machine for enhanced degassing performance!
The vacuum machine makes it possible to eliminate even very finer air bubbles, so it can be expected to even further improve the conductivity and insulation performance demanded of electronic materials, reduce the rate of defective products due to bubbles in optical materials and prevent injection of air due to air bubbles in syringes.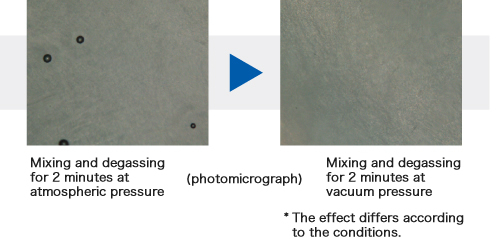 A shifted cup tray is used on the rotation axis to enhance mixing performance!
By shifting the cup tray on the rotation axis and increasing the contact part between the container inner wall and material, mixing capability is increased as compared to straight type (with straight cup trays) and the lump occurrence of the material is reduced. Furthermore, elongated containers such as long cartridges or syringes can be installed, and the distance from the revolution axis can be maintained, enabling uniform mixing.